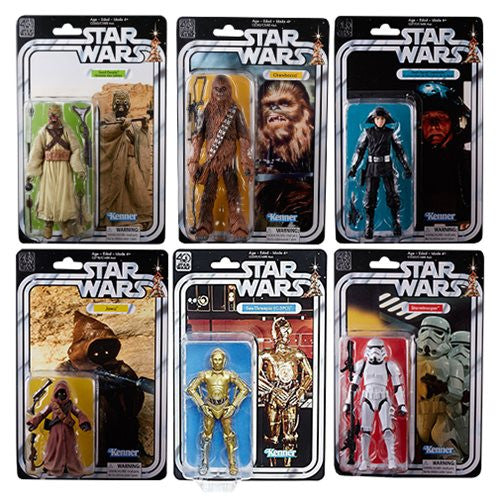 (Item not released to display or pre-order yet) Shipping JUNE

Star Wars The Black Series
Wave 2 (Full SEALED Case) (8pcs total)
Classically-detailed 40th Anniversary 6-inch replica of 6 figures.

This Star Wars Black Series 40th Anniversary 6-Inch Figures Wave 2 Case contains 8 individually packaged action figures from Star Wars: Episode IV - A New Hope:
1x SW E4 C3PO
1x SW E4 Chewie
1x SW E4 Stormtrooper
1x SW E4 Tusken Raider / Sand people
2x SW E4 Death Squad Commander
2x SW E4 Jawa

The legends that started it all! Collect all 12!
Original Kenner characters, modernized and enlarged, on vintage-style packaging.
Case contains 8 individually packaged action figures from Star Wars: Episode IV - A New Hope.
Featuring 20 points of articulation and bigger, better accessories.
Star Wars The Black Series 40th Anniversary Vintage 6-Inch Action Figures bring back the legends that started it all. The original 12 Kenner characters are back, but the legendary collectible action figure line has been modernized and enlarged on vintage-style action figure packaging with incredible sculpts and accessories from Hasbro and Gentle Giant Studios!
The Class of 1978 never looked better. You'll find the greatest characters from the original
Star Wars
action figure line updated with over 20 points of articulation per humanoid, plus bigger and better blasters, lightsabers, and data link accessories than you've ever seen on a vintage Kenner-style cardback! It would be unwise to skip this assortment, and the early bird catches the worm for this awesome collection. Ages 4 and up.
shipping? yeah, we do that.  basically after you enter your information at checkout you can pick shipping rates.  they are generated directly through ups and usps and automated in our system.  so if they looks expensive, blame Obama. (somebody told us that, we didn't know he even worked at the post office, HOW DOES HE FIND THE TIME!!?  but somebody told us to do that, so... cannonball).  anyway, you are the "choose your own adventure" decider of your shipping rates, and we don't make any money off that, so don't get mad at us when you choose the "$485 hand delivered by virgin handmaidens riding razor scooters down the alps" option.  hey, you picked it. we would have just went with regular old first class mail option.  If you email us, for $1,000 todd will probably personally deliver, let you stroke his beard, and cook you waffles.  He has free time.
But really, for USA shipping, it's $5.00 for orders $0-$50, $10 shipping for orders $50-$100, and free shipping for orders over $100.  CANADA shipping is a flat rate $22 usually (*yes, it's outrageous, that is the rate we pay with our volume discount).  INTERNATIONAL shipping is usually a default $25.  If you are international and getting something small like a pin or a sticker, shoot us an email and we'll refund the difference since it won't cost that much to get your order to you.