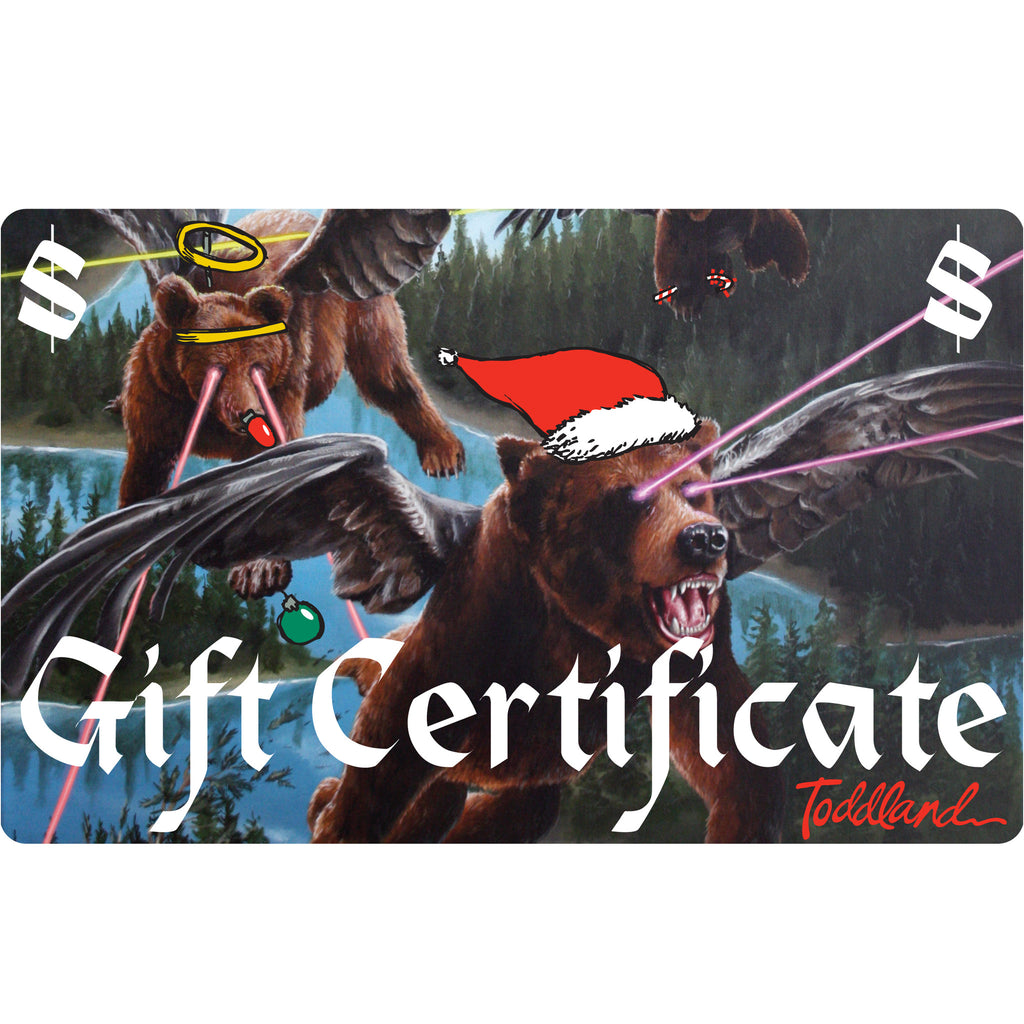 We know you want to get your loved ones, and mailman, (maybe they're the same person) something super rad from toddland but totally know that you'll buy the wrong size, or forgot that their cat died and buying them the cat pajamas would bum em out, or that you'll buy them the faux paws bear gloves and they'll totally lose a hand in a smelting accident between now and the time you give them to them. 
The holidays are waaay too stressful.  Click here. Send us money. We'll send you an email that you can wrap up at the last second because you totally didn't know what else to get them and ran out of time.  Trust us, it's better than last second gas station or pharmacy gifts.  (we still love you dad!)
Gift cards are delivered by printable email and contain instructions to redeem them at checkout. Our gift cards have no additional processing fees, no expiration date, and do not have to be used all on one order.
(If you need a denomination we don't have listed, please email us at store@toddland.com  we're capitalists, so we will make them in any denomination you need!
shipping? yeah, we do that.  basically after you enter your information at checkout you can pick shipping rates.  they are generated directly through ups and usps and automated in our system.  so if they looks expensive, blame Obama. (somebody told us that, we didn't know he even worked at the post office, HOW DOES HE FIND THE TIME!!?  but somebody told us to do that, so... cannonball).  anyway, you are the "choose your own adventure" decider of your shipping rates, and we don't make any money off that, so don't get mad at us when you choose the "$485 hand delivered by virgin handmaidens riding razor scooters down the alps" option.  hey, you picked it. we would have just went with regular old first class mail option.  If you email us, for $1,000 todd will probably personally deliver, let you stroke his beard, and cook you waffles.  He has free time.
But really, for USA shipping, it's $5.00 for orders $0-$50, $10 shipping for orders $50-$100, and free shipping for orders over $100.  CANADA shipping is a flat rate $22 usually (*yes, it's outrageous, that is the rate we pay with our volume discount).  INTERNATIONAL shipping is usually a default $25.  If you are international and getting something small like a pin or a sticker, shoot us an email and we'll refund the difference since it won't cost that much to get your order to you.